Chemical Waste Disposal & Trading in Houston, TX
Chemical Waste Management
Where others only see waste, our skilled waste management experts at Excel Industrial Group in Houston, TX, see a potentially valuable income stream for your company. Chemical waste disposal often involves disposing of excess contaminated or distressed chemicals that still have secondary value. Here at Excel Industrial Group, we turn that waste stream into a potential revenue source for you and your business. Through our vast network of manufacturers and chemical buyers, we will work to find a potential match and repurpose your chemicals instead of paying for disposal. Your company not only may generate revenue from this process but also benefit by reducing your chemical waste.
Chemical Trading Services
When an industrial company no longer needs a chemical, it all too often becomes a hazardous waste stream, costing the company large sums to transport and dispose of. Our chemical trading services offer a way to turn that hazardous waste into a possible source of revenue.
When it comes to chemical trading, we frequently purchase excess, off-spec, contaminated, and distressed chemicals from industrial companies nationwide. We have a large network of customers who buy a vast amount of chemical products, thus turning your industrial waste into a valuable income stream. The resources which we have established and have access to, allow us to be able to handle any amount of chemicals you are trading.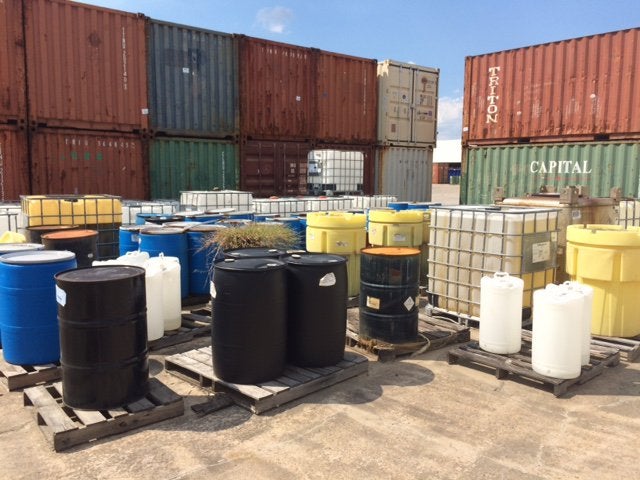 Trading chemicals can be a complicated process, with strict regulations and difficulty setting up a trustworthy network of buyers and sellers. When you work with Excel Industrial Group to repurpose your chemicals, we make chemical trading easy by taking care of everything from navigating the complex regulations to cultivating an extensive network of customers to repurpose your chemicals.
We make trading your chemicals easier for you by:
Knowing all the market restrictions
Being familiar with chemical trading regulations.
Having the logistical ability to easily trade your quantity of chemicals
Here at Excel Industrial Group in Houston, TX, our waste management experts have been providing cost-effective, environmentally safe waste management services since 1997. Over the past two decades, we've not only honed our ability to provide hazardous and non-hazardous waste disposal at affordable prices, but we've also developed methods to generate additional revenue from products you might otherwise be disposing of.
We pride ourselves on being experts in managing industrial chemical waste, providing chemical trading services and industrial waste management services to the Houston, TX, area as well as nationwide. In addition to chemical trading, we provide environmental cleanup, product recovery solutions, waste analysis, and industrial waste transportation and disposal.
Our goal is to make sure you are receiving outstanding chemical waste management services. To learn more about our chemical trading capabilities, call Excel Industrial Group today at 281-213-3822!