Expert Environmental Cleanup Services in Houston, TX
Providing Reliable Environmental Remediation Services
Hazardous waste can harm both people and planet if allowed to remain in place. Hazardous waste sites can also create legal liability for companies, and so swift responses are necessary when chemical spills or other incidents occur. Excel Industrial Group assists industrial businesses with professional environmental cleanup and emergency spill response services. We provide comprehensive assistance and waste disposal in the Houston, TX area.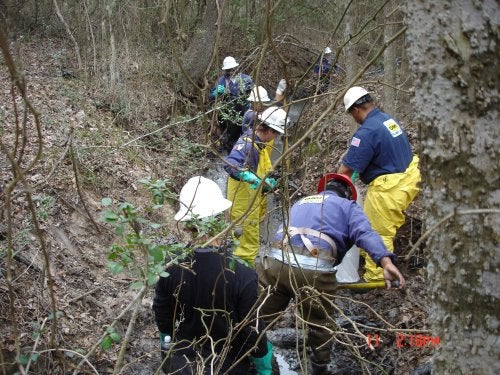 What Is Environmental Cleanup?
Environmental cleanup services refer to the process of removing pollutants, contaminants, and hazardous materials from contaminated areas. Environmental cleanup services include environmental remediation, which involves the use of various techniques to clean up hazardous waste from the environment. This type of remediation work can include soil and water remediation, as well as oil spill cleanup. Our services aim to restore contaminated sites to their natural state, and to ensure the safety of surrounding ecosystems and communities.
Common Types of Incidents That Require Remediation
Environmental cleanup services are necessary in response to incidents that can cause the contamination and pollution of the environment. Hazardous materials can be released from a variety of incidents, such as industrial accidents, transportation accidents, natural disasters, and intentional acts of vandalism or terrorism.
These incidents may cause chemical releases, groundwater contamination from leaking tanks, oil spills, and hazardous waste spills. The release of these substances poses a threat to public health and the environment. Cleanup efforts are necessary to mitigate the risks and restore affected areas to their previous state.
Process of Environmental Cleanup
At Excel Industrial Group, our fully compliant remediation work is backed by more than 20 years of experience working in the Houston, TX area. Our process of environmental cleanup involves several steps to ensure effective remediation of contaminated sites. The initial step is to assess the extent of contamination and identify the type of hazardous materials present.
Following the assessment, our experienced team will then identify the appropriate cleanup and remediation techniques. The cleanup process involves removing pollutants and hazardous materials from the environment using specialized equipment and techniques. Once the site is restored to its natural state, we conduct post-cleanup monitoring to ensure that the environment remains safe and contamination-free.
Types of Environmental Cleanup We Provide in Houston
Our professional team provides a comprehensive range of environmental cleanup services, including the following:
Sump and pit cleanouts
Land application
Hazardous waste cleanup
Soil, groundwater, surface water, and sediment remediation
Site reclamation.
Each type of environmental cleanup requires specialized techniques and equipment. The removal may be biological, chemical, physical, or a combination.
Physical cleanup involves removing or excavating contaminated soil, water, or debris. Chemical cleanup involves the use of chemical agents to break down contaminants. Biological cleanup involves the use of living organisms to break down or remove contaminants. The type of cleanup process we use depends on the site and the contaminants present. Our professional environmental cleanup services use the appropriate techniques to ensure effective and safe cleanup of contaminated sites.
Making Cleanup Safe: Important Tips
Safety is crucial during cleanup operations. Our team of professionals undergoes safety training to use appropriate techniques and equipment when handling hazardous waste and going through decontamination processes. The cleanup site must be appropriately marked and cordoned off to prevent access by unauthorized personnel. Safety considerations also require anyone with access to the site to wear the appropriate personal protective equipment (PPE), including suits, gloves, and respirators to avoid exposure to harmful contaminants.
Why Choose Us for Environmental Cleanup?
With twenty years of experience in the field, Excel Industrial Group is a leading provider of environmental cleanup services in the Houston area. Our team of professionals is equipped with state-of-the-art technology and equipment to handle a wide range of environmental cleanup projects. We prioritize safety and efficiency in all that we do and are committed to providing exceptional customer service to our clients.
Contact Us for Environmental Cleanup Solutions in Houston
Don't let environmental hazards endanger human health and the environment. It is important to act quickly and efficiently in these situations to minimize the environmental impact and prevent further harm. Contact Excel Industrial Group now to learn more.