Radioactive Waste Disposal in Houston, TX
Proper Disposal of Radioactive Waste
Radioactive waste derives from the remnants of radioactive fuel. It can be a solid, liquid, or gas and requires proper disposal and storage methods. Radioactive waste disposal is critical in preventing radioactive exposure and environmental pollution that can become a detriment to society. Excel Industrial Group offers effective radioactive waste disposal services to preserve the safety and integrity of your facility.
What Is Radioactive Waste Disposal?
Radioactive waste disposal is a process that can span multiple years to ensure the complete decay of the radioactive substance. Due to the hazards associated with handling radioactive material, regulated protocols are required to process, store, and dispose of these types of materials. Deep geological disposal is the commonly used method for the final disposal of radioactive waste.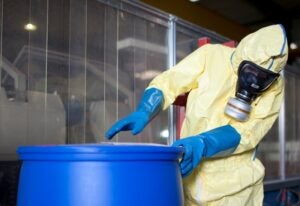 Types of Radioactive Waste
There are several types of radioactive waste. Each type of radioactive waste requires a specific clean-up and disposal process. These types include:
High level
Intermediate level
Low-level
Mining and milling
Transuranic
Disposal of Low-level and Intermediate-level Waste
Excel Industrial Group's in-depth expertise enables us to offer safety cases and other leading services to satisfy low to intermediate-level waste disposal requirements. We have the knowledge and capability to ensure long-term safety while conducting final radioactive waste disposal through near-surface disposal facilities or deep geological disposal methods.
Near-surface Disposal
Very low and low-level solid radioactive waste may be stored in near-surface disposal facilities at ground level or below ground level.
Ground Level: These facilities are placed on or below the surface with protective coverings a few meters thick. Once the vault is filled, the waste containers are covered and capped with a layer of soil and a membrane.
Below Ground Level: Below ground disposal involves the excavation of caverns. This type of facility is usually accessed through a drift, as It's located at a depth of several metres below the Earth's surface.

Radioactive Material Handling Capabilities
In compliance with various radioactive disposal regulations such as state, local, and NCR regulations, Excel Industrial Group is equipped to handle a range of radioactive materials, such as:
Smoke detectors
Biological specimens
Exit signs
Radioactive sources
Scintillation fluid
Electronic equipment
Mixed waste
Uranium and thorium compounds
NORM
TENORM
Radioactive standards and solutions
Key Benefits of Radioactive Waste Disposal
Proper disposal of radioactive waste offers several key benefits that contribute to your company's bottom line and the wellness of the planet.
Radioactive waste facilities are deep beneath the ground, eliminating the risk of human exposure
Minimized environmental pollution
Separate areas for low and intermediate-level radioactive waste
Reduced costs associated with our disposal methods
Why Choose Us?
As leaders in hazardous waste management and disposal, with more than 42 years of experience, our disposal experts have the knowledge to handle a range of waste disposal needs. Our waste professionals prioritize thorough, compliant work that puts the safety of our customers at the forefront of our processes.
Contact Excel Industrial Group
If your business produces radioactive waste and you are looking for reliable waste management solutions, Excel Industrial Group is here to dispose of your radioactive materials safely and efficiently. Contact our professional team of radioactive waste consultants to discuss your secure disposal needs or to obtain more information on our waste management services.
Why Choose Us?
We Excel At Efficiency
Over 25 Years of Experience
Experts In Managing Waste, Chemical & Co-Product Needs