About Hazardous Chemical Disposal in Houston, TX
Professional Hazardous Chemical Transportation
Excel Industrial Group is well-versed in the risks and complexities associated with these intricate processes as a leader in the hazardous chemical transportation and disposal industry. As such, industrial companies in Houston, TX, rely on our services for safe and efficient hazardous chemical transportation and disposal, ensuring unwavering regulatory compliance and reliable solutions.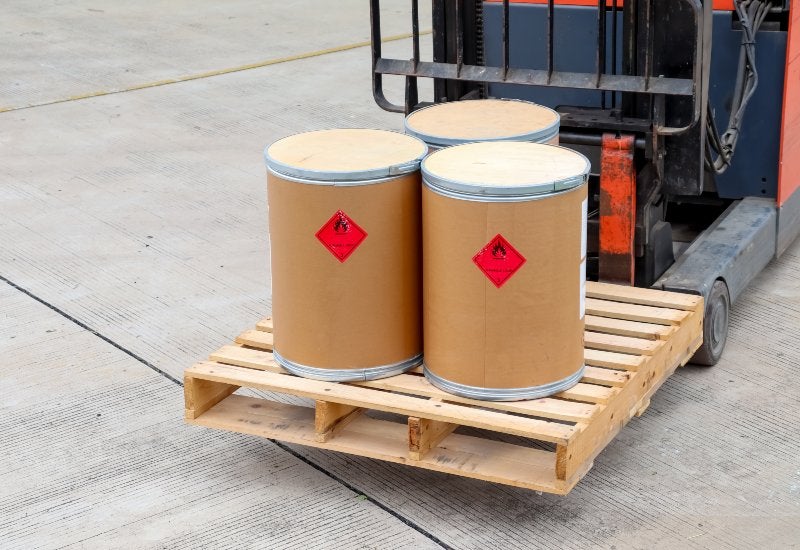 What Are Hazardous Chemicals?
Hazardous chemicals include a variety of substances that are dangerous to human health, the environment, or a combination of the two. Hazardous chemicals may be toxic, flammable, reactive, or corrosive and must be handled with extreme care and attention to deter accidents and environmental damage. Hazardous chemicals include but are not limited to industrial solvents, pharmaceuticals, and more.
Hazardous Chemical Transportation
Hazardous chemicals require specialized transportation protocols that adhere to rigorous regulatory standards enforced by the U.S. Department of Transportation and the Environmental Protection Agency. To safely store and transport chemicals, companies must abide by these regulations to ensure the health of employees and the environment remains protected.
Regulations for Hazardous Chemical Transportation
Hazardous chemical transportation is regulated by the U.S. Department of Transportation and the Environmental Protection Agency. As such, there are strict requirements and guidelines that must be followed in the storage, labeling, documentation, transportation, and disposal of these substances, and those overseeing the task must undergo comprehensive training to ensure full compliance.
How to Dispose of Hazardous Chemical Waste
Hazardous chemical waste cannot simply be removed and tossed away without posing a risk to public health and the environment. As such, hazardous chemicals must be removed to be treated, neutralized, or incinerated in established and regulated facilities to ensure they are handled appropriately, according to the potential hazards of that specific type of chemical.
Hazardous Waste Disposal in Houston – Our Procedures
Our professionals at Excel Industrial Group are backed by thorough training and knowledge of hazardous chemical removal procedures, ensuring a meticulous and carefully executed process that preserves the safety of your site. Combining state-of-the-art equipment and a range of transportation vehicles, we possess the tools and experience to effectively perform safe and thorough hazardous waste cleanup.
Chemical Waste Characterization
Chemical waste analysis is imperative for properly disposing of hazardous and non-hazardous chemical waste. To curate an effective disposal plan, we begin by detecting the physical and chemical properties of the waste using our Toxicity Characteristic Leaching Procedure, which enables us to analyze the waste for secure disposal precisely.
Our Chemical Transportation & Disposal Process
Our professionals begin with an assessment of the chemical waste to curate the appropriate disposal strategy. We handle the proper storage, labeling, and documentation of the waste, ensuring full compliance with regulations and using one of our many well-maintained, specialized transportation vehicles to dispose of the waste at a secure facility.
Chemical Waste Disposal Transportation Vehicles
Excel Industrial Group's hazardous chemical transportation vehicles are regularly inspected and maintained to the highest standards to ensure a seamless chemical waste disposal process. Our fleet of transportation vehicles to transport hazardous materials includes diverse options to satisfy varying demands, including the following:
Roll offs
Van trucks
Air Movers
Tanker trucks
Vacuum trucks
Choose Excel Industrial Group
Backed by over 25 years of time-honored experience, Excel Industrial Group is Houston, TX's leading choice for hazardous chemical waste transportation and disposal. With a wealth of knowledge and the necessary equipment to carry out minor to complex projects, you can rely on our professionals for secure chemical waste transportation and disposal that promotes the safety of your job site and the environment.
Contact Us for Hazardous Chemical Transportation & Disposal
For exceptional customer service and hazardous chemical transportation and disposal solutions tailor-made to accommodate your operations in the safest and most effective manner, choose Excel Industrial Group. Contact our team to discuss your chemical waste disposal needs.
Why Choose Us?
We Excel At Efficiency
Over 25 Years of Experience
Experts In Managing Waste, Chemical & Co-Product Needs