Chemical Cleaning Services in Houston, TX
Welcome to the Front Line of Chemical Safety
At Excel Industrial Group, we serve as a staunch ally to businesses across Houston, Texas, providing meticulous and dependable chemical spill, emergency, and response plans. As a vanguard in the chemical industry, our team is adept and dedicated to carrying out rapid, efficient, and secure chemical spill cleanup. We stand by our commitment to our operations' safety, health, and environmental impact, ensuring minimal disruption and maximum safety.
Unraveling the Intricacies of Chemical Cleanup Services
From conducting a risk assessment to executing cleanup and handling waste disposal, we take a comprehensive approach. This not only facilitates a swift response to all chemical emergencies but also aids in safeguarding the health and well-being of both individuals and the environment: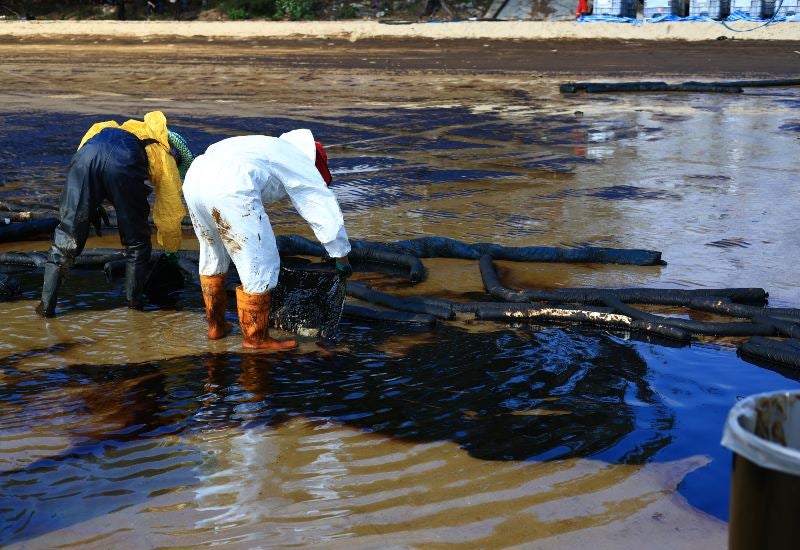 Assessment of Chemical Risks – We initiate our process by carefully evaluating the nature and extent of the chemical hazard.
Chemical Spill Control – Immediate action is taken to control and contain the spill, thereby mitigating any immediate risks.
Cleanup and Decontamination – A rigorous cleanup process is followed by thorough decontamination procedures to ensure complete safety.
Waste Disposal – We prioritize safe and compliant chemical waste disposal, strictly following all legal regulations.
Tackling Chemical Spills Head-On
Efficient handling of a chemical spill requires immediate, decisive action, which our chemical spill cleanup team is expertly trained to deliver. Our seasoned professionals react swiftly and effectively, following rigorous emergency response cleanup procedures. This guarantees that chemical hazards are properly managed and that further contamination is effectively curbed, thereby ensuring the well-being of all stakeholders.
Navigating Emergency Response Cleanup Protocols
When a chemical emergency strikes, time is of the essence. Our seasoned teams adhere to a robust set of emergency response cleanup procedures, ensuring a swift, safe, and effective resolution of the situation:
Initial Response – The first step involves immediately activating the chemical spill emergency response plan.
Risk Evaluation – We meticulously assess the spill to understand the potential risks and the necessary resources for effective management.
Spill Containment – Strategic measures are implemented to control the spill and prevent further contamination.
Cleanup and Decontamination – Our expertly trained teams conduct thorough cleanup procedures followed by extensive decontamination.
Post-Response Evaluation – After cleanup, a final comprehensive assessment is carried out to guarantee safety and compliance with all necessary regulations.
Your Trusted Partner in Chemical Cleanup
Having a reliable, experienced, and knowledgeable chemical spill cleanup company by your side is paramount in chemical emergencies. Excel Industrial Group takes pride in our commitment to safety, rapid response, and proficiency in managing chemical emergencies, ensuring you are well-protected and well-prepared.
Taking Control with Spill Emergency Clean-Up Services
Through our wide-ranging emergency cleanup services, we endeavor to contain, clean up, and correctly dispose of chemical spills. Our seasoned team has the tools, technology, and knowledge to efficiently manage any chemical emergency response.
The Excel Industrial Group Difference
Excel Industrial Group distinguishes itself through experience, commitment to safety, and a comprehensive suite of services. We provide full-fledged chemical spill emergency response plans and a dedication to customer service that sets us apart in the industry:
Comprehensive Services – Our end-to-end services encompass everything from risk assessment to cleanup and waste disposal.
Experienced Team – Our team is steeped in experience and rigorous training, ready to tackle any chemical emergencies.
Commitment to Safety – Safety is paramount, and we strive to ensure it for our team, clients, and communities.
Get in Touch with Top-Notch Chemical Cleanup Services
Excel Industrial Group is ready to step up if you're searching for a chemical spill cleanup company you can trust. We're here to deliver premium chemical cleaning services bolstered by a team committed to the highest safety and quality standards. Contact us to discover more about our emergency cleanup services and how we can help keep your business safe, secure, and compliant.