Tank Removal Services in Houston, TX
Industrial Tank Removal by Excel Industrial Group LLC
Discover Excel Industrial Group LLC's premier tank removal services in the heart of Houston, TX. We have been the trusted name in industrial waste management for over two decades, and our tank removal expertise is second to none. You've come to the right place if you're seeking efficient, safe, and cost-effective solutions for removing industrial tanks. Excel Industrial Group LLC is your partner in ensuring a cleaner, more streamlined operation for your business. Contact us today to discuss your tank removal needs and experience excellence in waste management. Your path to a cleaner future starts here.
What Are Tank Removal Services?
Oil tank removal services involve the professional and safe removal of storage tanks, typically in industrial or commercial settings. These tanks can hold various substances, including petroleum products, chemicals, or hazardous materials. The primary goal of tank removal services is to eliminate unused, outdated, or potentially risky tanks to ensure environmental safety, compliance with regulations, and efficient use of space. This process includes thorough inspections, proper disposal of tank contents, excavation, and removal of the tank itself. Tank removal services are essential for preventing leaks, spills, or contamination that can harm the environment and pose legal and financial liabilities for businesses.
The Tank Removal Process by Excel Industrial Group LLC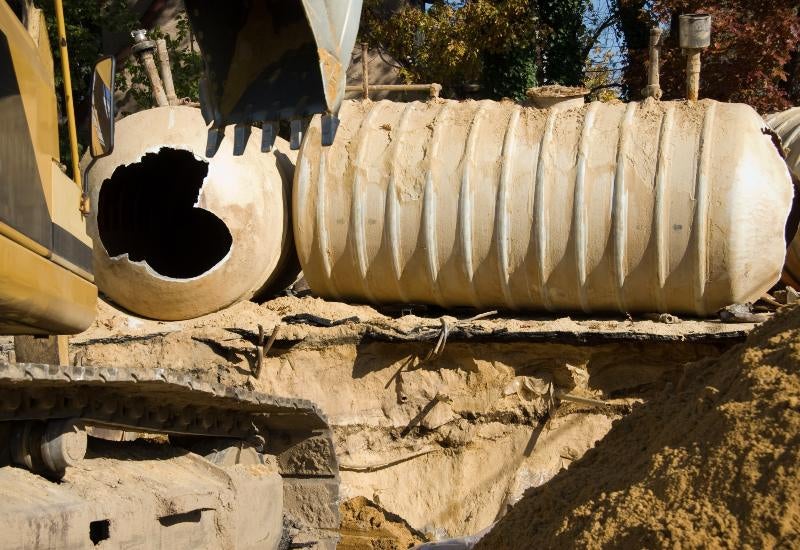 The tank removal process by Excel Industrial Group LLC is a meticulously executed operation designed to ensure safety, compliance, and environmental responsibility. Our experienced team begins with a comprehensive assessment, determining the tank type, contents, and potential hazards. We carefully plan the removal once the assessment is complete, ensuring all safety protocols and regulatory requirements are met. The actual removal process involves the precise extraction of the tank and the safe disposal of its contents, minimizing any environmental impact. Our commitment to efficiency and environmental stewardship is unwavering throughout every step of the process. Excel Industrial Group LLC's tank removal services provide peace of mind to businesses, guaranteeing the safe elimination of outdated or hazardous tanks while adhering to the highest industry standards.
Types of Tank Disposal
 When it comes to industrial oil tank removal services, Excel Industrial Group offers a wide range of specialized solutions to meet diverse industrial needs. Here's a list of the different types of tank disposal services we provide:
Sludge-Removal and Tank-Cleaning – Our expert team ensures that tanks are thoroughly cleaned and decontaminated to remove hazardous substances, ensuring safety and compliance.
Tank Decommissioning – We professionally decommission tanks no longer in use, preventing potential leaks or environmental hazards.
Tank Removal and Demolition – We safely extract and demolish tanks, optimizing space and eliminating the risk of contamination.
Tank Recycling – Excel Industrial Group LLC focuses on recycling materials from tanks when possible, promoting sustainability and reducing waste.
Hazardous Material Disposal – We specialize in properly disposing of hazardous materials stored in tanks, adhering to strict regulations, and minimizing environmental impact.
Emergency Spill Response – Our rapid response team is available 24/7 to address emergency spills and prevent further environmental damage.
Tank Inspection and Assessment – We provide thorough inspections and assessments to identify potential risks and develop a customized disposal plan.
Environmental Remediation – Our services extend to environmental remediation, addressing any oil spill soil contamination resulting from tank leaks or spills.
Why Choose Excel Industrial Group LLC
Don't let outdated or unused tanks slow down your industrial operations any longer. Excel Industrial Group is your go-to solution for professional chemical storage tank removal services in Houston, TX. Our commitment to efficiency, safety, and environmental responsibility means you can trust us to handle your tank removal needs precisely. Whether you want to clear space, upgrade your facilities, or ensure compliance with regulations, our experienced team is ready to assist. Take the next step towards a cleaner, more efficient future for your business – contact Excel Industrial Group LLC now for a consultation, and let us be your partner in industrial tank removal excellence.
Why Choose Us?
We Excel At Efficiency
Over 25 Years of Experience
Experts In Managing Waste, Chemical & Co-Product Needs